Play hockey in Adelaide! The Westminster Hockey Club has a long and proud history in South Australian Hockey. With 4 competitive sides we welcome new players, male and female whether young or old, experienced or beginner, you are welcome to come out and join us. We play on weekends, train on Wednesday nights and our base is Lipson Ave, Seacliff. With your participation and support our club will continue from strength to strength.
Get Fit
Hockey is a great way of getting and keeping fit! Suitable for beginners to experienced players, young or old.
Have Fun
Enjoy a competitive sport while playing with friends. Grab a few mates, be part of our successful club and keep fit.
Winning Team
Our M5 side won the 2018 Premiership and all sides played in finals. Our M3 side won the 2017 Premiership and our M5 side won the Premiership in 2016.
Get Social
Win bragging rights with fun, team events like Paintball and Go-Karting. Held every year these events are a highlight.
Keep up to date with everything happening in the club from team updates, training, awards, trophies, fundraising and social events!
Play hockey in Adelaide. Hockey club in Adelaide. Thinking about playing or haven't played for a while? We have something for everyone and are a friendly and welcoming group. We'd love to see you.
Have a question or just need to get in touch? There are several ways to get hold of us, click the link to find out which best suits you.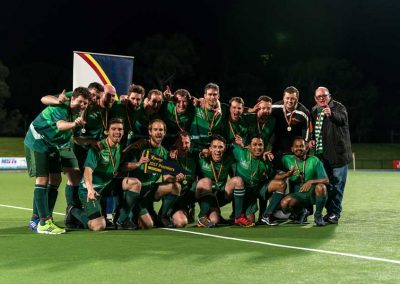 All 3 Westies sides made the finals this year. M6 (our development side) finished 4th, going down in a close semi final vs Forestville. M5 (our B grade) ...